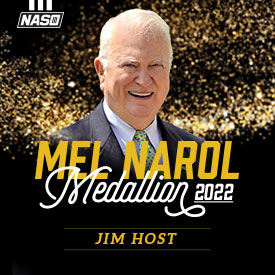 Jim Host, founder of Host Communications and an invaluable advocate in the early days of the National Association of Sports Officials (NASO), was chosen as the 2022 NASO Mel Narol Medallion Award recipient. The award will be presented in Denver, Colo., on Tuesday, Aug. 2, during the Celebrate Officiating Gala, sponsored by Fox 40 International. The Gala caps the 2022 Sports Officiating Summit.
Host is among the original architects of the NASO conventions (now Summits). He was also involved in developing the formal relationship between NASO and Referee Enterprises Inc., the publisher of Referee magazine and NASO's management services partner. He is a former NASO Board member.
Host Communications is a pioneering collegiate sports marketing and production services company. It was acquired by IMG in 2007.
"The Mel Narol Medallion is awarded to someone who has provided exceptional service and support to NASO," said Barry Mano, NASO president. "Jim Host was there at the very creation of NASO 42 years ago. I went to Jim to get his advice on how to structure a non-profit association. At that time Jim already had years of experience in that field. From our very first 5:30 a.m. meeting in his office, Jim and I have remained in contact. I remember that meeting like it was yesterday: Jim sat down at his desk, looked at me and said 'go.' That is how it all began. Jim has never not been there for us, answering questions, giving advice and providing strategic vision. All of us at NASO owe Jim a big shoutout for his continued interest and enthusiasm."
Host said, "Receiving the Mel Narol Medallion Award from NASO is one of the great highlights of my life. I remember meeting Mel at the first NASO Convention and immediately connected with him because of his passion for officials and for the formation of NASO. I deeply appreciate this honor and thank Barry Mano for notifying me and for his many years of leadership on behalf of officials."
In 1974, Jim Host and Associates acquired the radio rights to University of Kentucky sports which then led to the NCAA radio network rights in 1975. From there, institutions like Notre Dame, Texas, Michigan, Tennessee, Florida State and several others, including major conferences like the SEC, became clients of Host. In 1983, the company introduced the NCAA Corporate Program. Before then there was no licensing of marks or any revenue from corporate sponsor programs in college athletics. Host has been involved with many national and local civic and business groups.
The Medallion recognizes an individual or organization that has made significant contributions to the betterment of NASO. These activities include organizational leadership, education, training, promotion of officiating and other events. The award is named for Narol, a longtime legal columnist and consultant to NASO, who died in 2002. Narol received the award posthumously in 2003, when the Medallion was named in his honor.
Fox 40 International is the premier producer of officiating whistles. The complete line of Fox 40 products includes whistles for all uses, whistle attachments, Fox 40 gear, pro coaching boards, mouthguards and marine/outdoor products. Fox 40 continues to invest in new technology, designs and machinery, resulting in many new products being launched each year. Fox 40 has sponsored the Celebrate Officiating Gala for more than two decades.